Catch Tonight's Egg Whisperer Show at 7PM PST
Tonight's show is on How to Create your own Personalized IVF Plan. You can watch it here LIVE tonight at 7PM PST.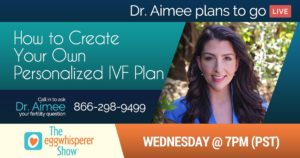 Have you ever used Google Maps and been redirected midway via a better route? Think about this show as your personalized navigation tool for fertility and IVF.
I bring the beauty of Google Maps into my fertility care by serving as a personal navigator for every one of my patients. Watch tonight's show to learn the techniques I use to create a personalized IVF care plan for my patients.
Diagnosis before treatment is the "Egg Whisperer Way." My goal is to decrease your time to pregnancy and increase your pregnancy rate. I hope this show helps YOU!